Our Jubilee Service is on Sundays at 9:00 a.m. This hour of worship features the Grace Notes praise team, upbeat music, and sermon by Pastor.

The Traditional Service takes place at 11:00 with traditional hymns, pipe organ, choir, and order of worship.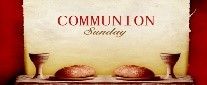 Communion is served at both services on the first Sunday of the month. The United Methodist Church celebrates an open table, which means all who are seeking to grow in their faith in Jesus Christ and be at peace with their neighbor are welcome. Children are welcome to participate at the discretion of their parents.